The West Virginia Patriots for Peace is a grass-roots organization formed in September 2002 with the drafting of a Declaration and Call To Action.
We include Democrats and Republicans and Independents; members of all aspects of the faith community; political activists, people of conscience and pacifists; veterans, housewives and students; union members, the unemployed and the retired. We are your neighbors and your fellow Americans. We invite you to join our mailing list!
---
Action Alert, August 28, 2015
Local Town Halls on the Iran Deal
Over the past several weeks, WV-CAG and WVPP have been participating in local events, debates, and media to support the Iran Nuclear Deal; while many outside groups have been doing the same in opposition. We've never seen this level of pressure from outside of the state, besides during an election year, on a WV member of Congress over a vote like this.
West Virginians need to contact Sen. Manchin in support of the deal, and throughout the next week, we have several opportunities to do so! Below are three upcoming local events concerning the Iran Deal. We hope to see several of you show up in support of the deal!
If you're not in the Charleston area or can't make it to one of these events, please call the Senator's office at 304-342-5855; his staff is counting calls pro & no!
Community Forum on the Iran Deal
"The Meaning of the Iran Deal"
Sunday, August 30th @ 3 pm
Sanctuary of First Presbyterian Church of Charleston
Panel: Rabbi Victor Urecki & Reverend Jim Lewis
Moderator: Dr. Chuck Daugherty
FREE and open to the public!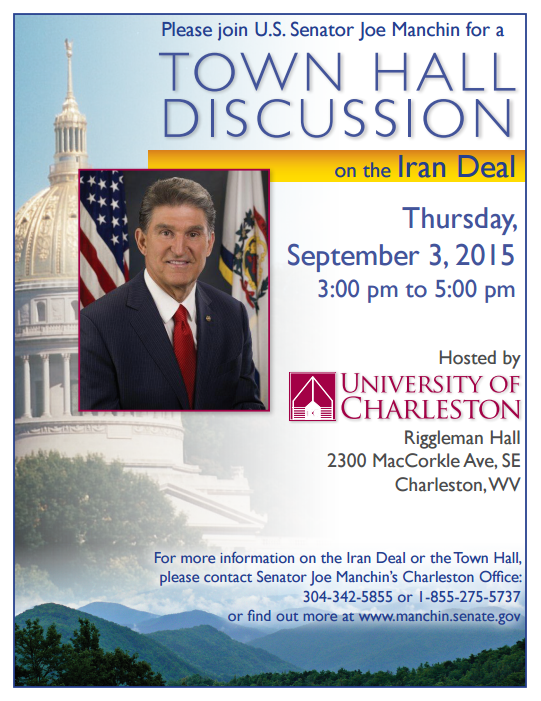 The Iran Deal: Security and Implications for the U.S. and Israel
Dinner & Program
Monday, August 31st @ 6 pm
Congregation B'nai Jacob (1599 Virginia St. E., Charleston, WV)
Special guest: Elliott Mendes, AIPAC Southeast Regional Direction
*This event is anti-deal, so we are looking for some volunteers to pass out information outside as people enter. If you are interested, please email Jim Lewis Ejlchas@aol.com or call WV CAG offices at 304.346.5891.
---
Action Alert, August 17, 2015
Calls needed NOW to stop War with Iran!
Senator Manchin is undeclared right now on the upcoming Senate vote on the Iran Nuclear Agreement.

He leans toward supporting the Agreement, but the opposition is well-organized and well-funded, and pushing him hard to vote against it.

We need to generate 1,000 contacts RIGHT NOW in support of the Agreement.

Please take time NOW to call Senator Manchin's office near you. Ask him to support of the Iran Nuclear Agreement. It's our best chance for a new path toward peace, and away from even more war in the Middle East. Find office locations here.
After your call, log onto this national coalition page to send a message to all WV Representatives:
Here are some good articles in support of the deal; they offer more background on why this is a good agreement:
---
;
---
A free movie offer from Alternet:
Dear AlterNet Reader,

Last week at a screening in New York City, I saw Robert Greenwald's extraordinary new film: Unmanned: America's Drone Wars. There, I met members of a Pakistani family --victims of U.S. drone attacks who were featured in the film. They were brought to the states to testify in front of Congress. Amy Goodman interviewed the family and Robert after the film showed.

I really hope that you will watch this film. It is like nothing you have seen before. And the good news is that you can go right from this eMail -- click here -- to sign up for a free link to watch it. You can watch it with friends and family and you can also send the link so that many others can watch it as well. I hope you will. But, be prepared to feel emotionally wrenched.

Watching Robert's film left me awash with emotion and so angry with our government and their horrible signature strikes – where military personnel sitting thousands miles away blow people up without knowing who they are or what they are doing. This is all explained in great detail in an extraordinary interview of a courageous young man who worked for our government. He tells what it feels like to be a potentially indiscriminate killer by pulling the trigger from afar.

The moving stories of the victims, their families and communities are also powerful. The overwhelming trauma experienced by these communities is profound, as the drones fly overhead 24/7. No one knows when and where they will hit next. Kids are afraid to go to school; people even fear going outdoors.

I am not being hyperbolic when I say that watching this film will leave you changed for a long time. Thanks for reading.

Peace,

Don Hazen
---
---

ONLY THE PEOPLE WILL STOP WAR ON IRAN!

President Bush has made accusations that Iran supports attacks on U.S. troops, without any evidence. When we hear other elected officials like Senator John McCain saying (to the tune of Barbara Ann), 'Bomb, bomb, bomb, bomb Iran,' the horrific seems possible (again!).

Our own Senator Rockefeller, chairman of the Senate Intelligence Committee, said that any U.S. military move into Iran would be 'catastrophically stupid' and 'unleash a conflagration like we've never heard of before.' We could not possibly agree more.

Click here to read a letter that was sent to our Congressional Delegation outlining why peaceful negotiations are the ONLY way to deal with the rising tensions between the US and Iran, and in the Middle East in general.
---
UNDERSTANDING THE U.S.-IRAQ CRISIS: A Primer by Phyllis Bennis